Modulating Air Conditioner
What is a Modulating Air Conditioner?
Modulating air conditioners use state-of-the-art technology to maximize your indoor comfort and achieve the highest efficiency. In addition, a modulating A/C or heat pump is a great way to optimize your entire HVAC system. Modulating air conditioners/heat pumps, also known as communicating systems or inverter systems, are among the most efficient heating and cooling options available. Modulating air conditioners are unique because the units maximize comfort by adjusting the output of the system to match the requirements of the space! It's like driving your car on cruise control down the highway! You get the best mileage while covering the most ground. As a plus, some of the local utility companies have rebates of over $2,500 for some of these systems! If you have any questions, feel free to call or even set up a free in-home consultation.
If you have an older air conditioner that you'd like to replace, or you just started your business and need to install an HVAC system in your office, we're here to help. Whether you're interested in a rooftop unit or want to learn more about VRF systems, our team will be able to answer all of your HVAC questions, and help you decide which commercial A/C unit is right for your needs.
Free Commercial A/C Installation Consultation
Types of Variable-speed Air Conditioners
Your entire HVAC system is an investment, so you need to make sure that you have the best units integrated into your system. At Polar Bear Mechanical, we only offer our clients the best of the best, including three modulating air conditioner options.
Variable Speed (RA20) Rheem Air Conditioner
This powerful air conditioner is part of Rheem's Prestige series. As one of the most sustainable options available, its cooling efficiency is 20.5 SEER/ 14.5 SEER. In addition, as an EcoNet Enabled product, the unit provides advanced air control to help your space reach its ideal temperature while saving energy. This modulating air conditioner has technology that provides increased efficiency, precision temperature control, and less humidity.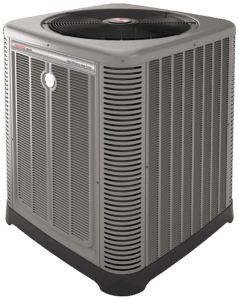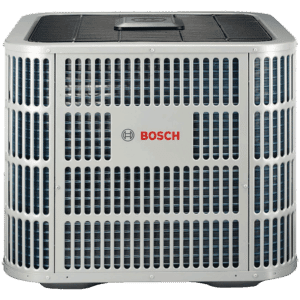 Bosch Variable Speed Heat Pump
Don't be fooled by the name. Heat pumps are just air conditioning systems that also can heat your space. The German engineering of this A/C system guarantees lower utility costs. Another great benefit of this specific air conditioning unit is that it's one of the quieter units on the market. So, if the unit is near your bedroom or living room, you don't have to worry about the noise interrupting you.
efficiency, precise temperature control, and less humidity.
Wall-Mounted Mini Split System
This wall-mounted Fujitsu air conditioner is one of the most affordable and easy-to-use air conditioners available. It has a programmable remote, barely makes noise while operating, and produces high-quality results. With this powerful unit installed, you can enjoy a comfortable indoor temperature, no matter the weather outside. Plus, upgrading your current system to this one is quick and easy for our experts!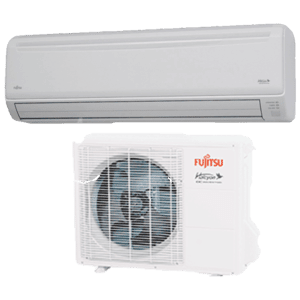 Are Variable-Speed Air Conditioners Worth It?
At Polar Bear Mechanical, we understand that it can be challenging to decide if a modulating A/C unit suits you and your needs. It's a significant investment, and you want to ensure that you're making the right choice. Luckily, installing a modulating A/C unit means you'll get to reap the benefits, including:
If you've ever suddenly woken up in the middle of the night because your house was freezing, you know how frustrating it can be to deal with inconsistent airflow. Upgrading your system to a modulating A/C will ensure that the air conditioning is constantly running at the necessary level to maintain your desired temperatures.
Modulating A/Cs are an excellent solution for those struggling with humidity issues in their homes. When your home becomes too humid, it can cause you to have trouble breathing properly and can even begin to damage your home's interiors. Because a modulating unit is constantly running, it's continuously removing moisture from the air.
If a home has mold, usually it's because there's too much moisture in the air. A variable-speed air conditioner will ensure that your home's humidity levels don't exceed 50 percent, which is the CDC's recommendation. Variable-speed air conditioners don't just help you maintain indoor temperatures; they also help keep your home free of mold.
Modulating Air Conditioner FAQ
Upgrade To A Modulating Air Conditioner Today!
As leading HVAC experts in Colorado Springs, Polar Bear Mechanical understands the benefits of upgrading your existing A/C to a modulating air conditioner. Upgrading your system will save you money on your utility bills and provide premium indoor comfort! If you're ready to experience the benefits of variable-speed technology, then make sure to contact our knowledgeable team today.