At Polar Bear Mechanical, we're an experienced HVAC company that knows how important it is to care for your AC unit properly. Having a faulty air conditioner is the last thing you want to deal with during a hot Colorado summer. In addition, regular maintenance significantly impacts how well your system is operating and how long your AC unit will last.
We understand how important a reliable heating and cooling system is for your home. Our team loves to educate our community, helping the residents of Colorado Springs understand everything an HVAC system encompasses. With over 40 years of experience, we know all the tips and tricks to lengthen the life of your AC unit and keep it running efficiently. Our team of HVAC specialists is giving you all the tools you need to stay on top of your AC unit maintenance.
Top 5 AC Unit Maintenance Tips
Maintenance is one of the most important things you can do to lengthen the lifespan of your air conditioning unit. We've included our top five maintenance tips to keep your AC running cool this summer.
1. Replace Your Air Filter
Having a clogged and dirty air filter means your air conditioning unit must work harder to transport air throughout the system. The longer you go without changing your air filter, the more likely you will damage your AC unit from the added stress on the system. Learn more about changing your air filter.
2. Schedule Regular Maintenance
You should try and have your unit serviced at least once a year. Periodic maintenance helps ensure that your unit is working correctly and efficiently, therefore lengthening the lifespan of the AC unit. In addition, for most households, scheduling a tune-up right before summer will help guarantee that your unit is good to go before you begin to use it more frequently.
3. Let Your AC Unit Rest
Are you the type of person who has the air conditioning running all day long, no matter the temperature outside? If you can, try not to do this whenever possible. Instead, consider turning your air conditioning off if you're going to be gone for an extended period. You can also turn the thermostat up at night so that your unit won't automatically turn on as the temperature drops outside. Not only will this help your AC unit last longer, but it should also have a positive impact on your bills. The smaller the difference between the indoor and outdoor temperatures, the less money it costs to run your unit.
4. Keep The Outdoor Unit Clean
You want to ensure that the outdoor unit is free of debris and obstructions. For example, you don't want your air conditioning unit to work twice as hard because leaves and a bush are growing into it. In addition, by keeping your unit clean, you help ensure energy efficiency. A good rule of thumb is to give your unit at least two feet of clearance.
5. Check Your Vent Airflow
When furniture or appliance block your vents, it makes your AC unit work harder to reach the desired indoor temperature. Whenever your air conditioning unit works harder than it needs to, it takes a toll on the unit and negatively impacts how long it can effectively run.
Experience Exceptional Service | Polar Bear Mechanical
While your air conditioning unit won't last forever, there are many ways to take care of it and ensure it runs properly for at least a couple of decades. As summer is approaching, make sure you service your air conditioning unit. Whether you think you need an AC unit replacement or you want to schedule a tune-up, Polar Bear Mechanical will provide you with the best service Colorado Springs has to offer. So chill out with our exceptional team and schedule your next service!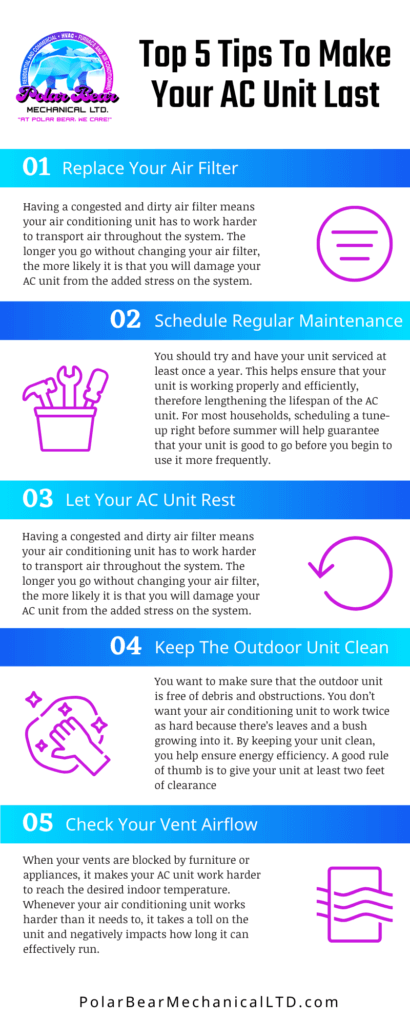 Read: 6 Types of AC Units
Read: Changing Your Air Filters