Understanding the ins and outs of your HVAC system is key to making sure you're able to properly maintain it. Heating and cooling systems are a large investment, so it's important to understand proper HVAC maintenance and the steps to take if your system malfunctions. It's unsettling when your heating and cooling system begin to function abnormally, and you're not quite sure what the problem is or how to fix it. If your system is suddenly making loud, unusual sounds and you don't know why contact one of our HVAC technicians immediately to check for high static pressure.
One of our technicians will thoroughly inspect your system to identify any problem areas. Other indicators for airflow issues can be whistling and dust build-up on door jams. Luckily, at Polar Bear Mechanical, our HVAC technicians have the proper training and licensing to test and balance your system for proper airflow and static pressure.
Most older residential HVAC systems are operating outside of the manufacturer's specified static pressure requirements. Static pressure problems can be serious, so it's important to deal with the issue as soon as possible. If your HVAC system seems to be malfunctioning in any way, such as making loud noises or failing to reach desired temperatures, call our HVAC technicians immediately before the problem snowballs into a bigger issue. If you suspect your system has high static pressure, we'll conduct readings to see if it's suffering from restrictive airflow.
What is HVAC Static Pressure?
Static pressure is the outward pressure the air inside your ductwork creates. It is what pushes the air throughout your home. The airflow inside your ducts has to be greater than the resistance. Otherwise, the ductwork becomes overheated, and that greatly affects your HVAC system's performance. When the resistance inside the ducts increases, the static pressure increases as well, making it extremely difficult to achieve efficient airflow.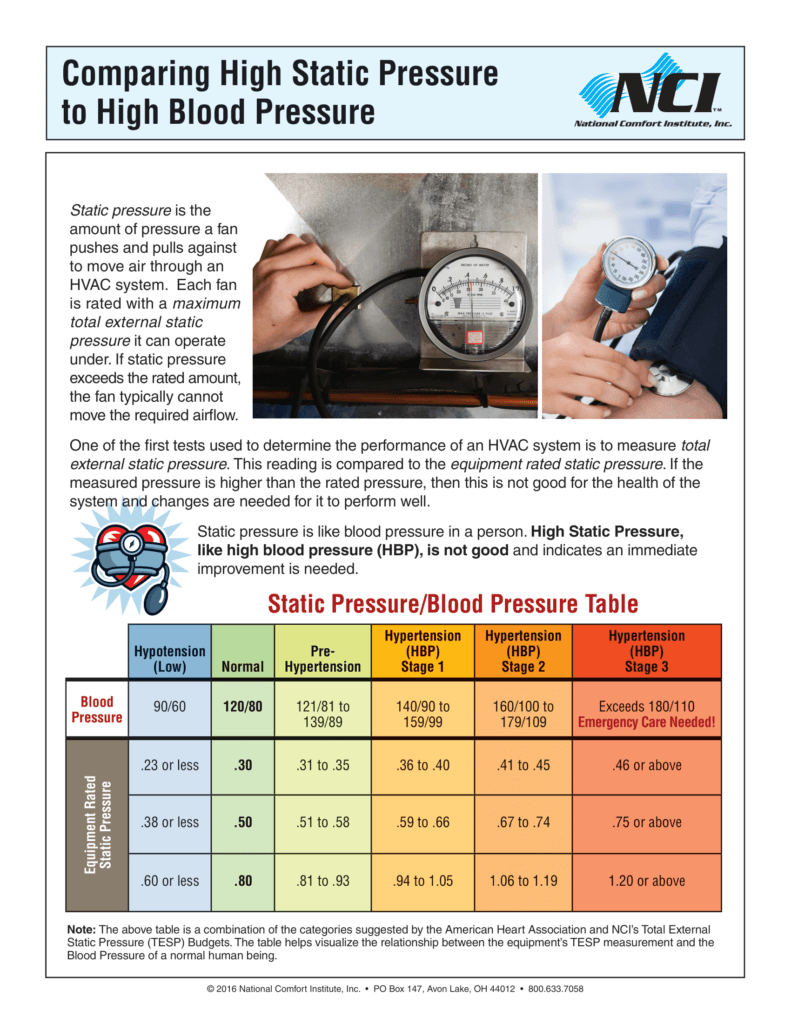 Consequences of High Pressure
Even if you're not a trained HVAC technician who knows how to conduct static pressure readings, there are clues you can look for to help you determine if your HVAC system may be struggling with this problem. Some consequences of high static pressure include:
Excessive Noise

If your system seems abnormally loud when it's on, it may be a sign of high static pressure. The more pressure inside your duct system, in other words, the higher your system's static pressure, the louder it becomes.

Hot and Cold Spots

Another sign of possible high pressure is uneven indoor temperatures. When your HVAC's airflow is compromised, your system is no longer able to heat up or cool down spaces as it should. As a result, you may experience hot or cold spots in your space.

Increased Energy Bills

HVAC equipment with high pressure is unable to function efficiently. When a part of your HVAC system is working harder than it should, it causes your energy bills to increase. So, monitor your energy bills and note if they suddenly spike for no reason.

System Failure

One of the most dangerous results of high static pressure in your HVAC system is total equipment failure. There may be an internal complication causing the increase in static pressure, such as an old blower or faulty compressor. When HVAC systems function with faulty components and high pressure, the combination could lead to your equipment failing completely. This becomes extremely dangerous during the winter and summer when it's vital that you're able to control your indoor temperatures.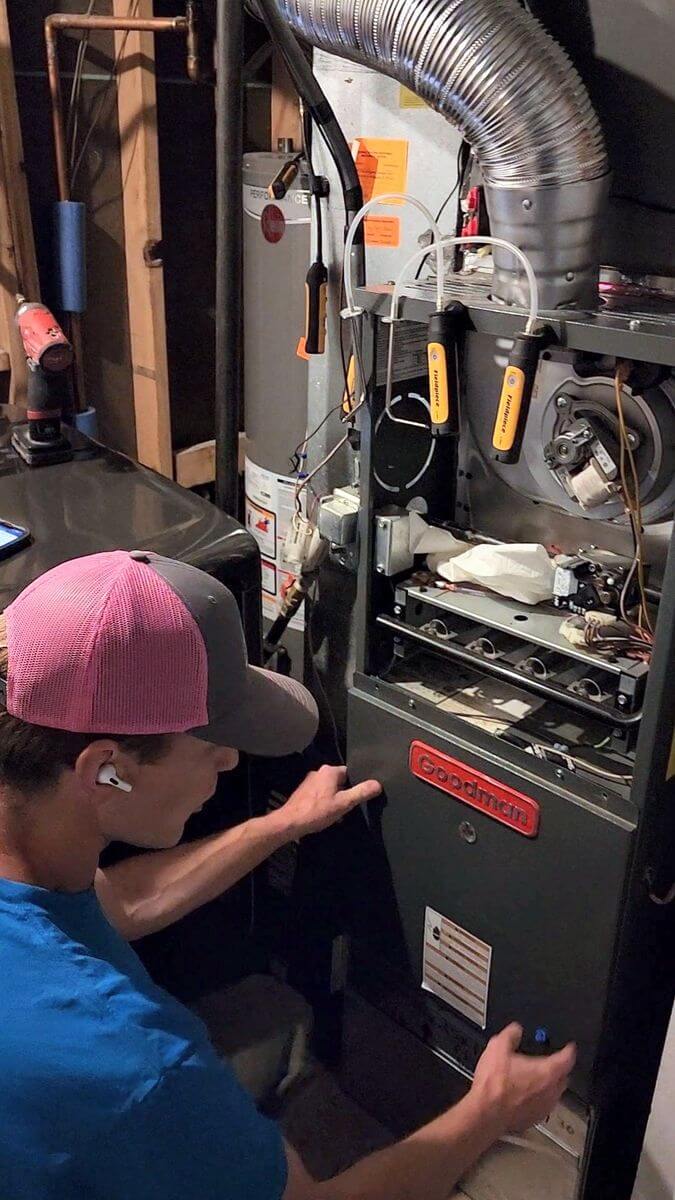 What Causes High Static Pressure?
There are many possibilities as to why your heating and cooling system is suddenly dealing with high static pressure, including:
Improper Air Filter

Air filters play an important role in your heating and cooling system, and if you have a thicker than needed filter on your vents, it could cause a decrease in airflow. Plus, if it's been a while since you've changed your air filter and it's extremely dirty, it's most likely clogged, isn't offering a lot of space, and is too restrictive for proper airflow.

Dirty Ductwork

Similar to dirty air filters, if your ductwork is clogged with dust and debris, it causes an increase in resistance. The increase in resistance leads to high pressure and air can't flow optimally.

Poor Ductwork Design

If your ductwork is poorly designed or improperly installed, it can cause high pressure. For example, if your ducts are too narrow or dip too much, it creates airflow resistance.

Undersized Return Air Intake

One of the first areas that can experience air resistance in your ducts is the return air intake. If your compressor is faulty in any way, it could force your system to work harder, decreasing the lifespan of your system and its functionality. So, make sure it always has the degree of pressure it needs.

Improperly Installed or Broken Ductwork

Improperly installed or broken ductwork can lead to high static pressure. This, in turn, can cause your HVAC system to work harder than necessary, leading to increased energy costs and potentially shortened system lifespan.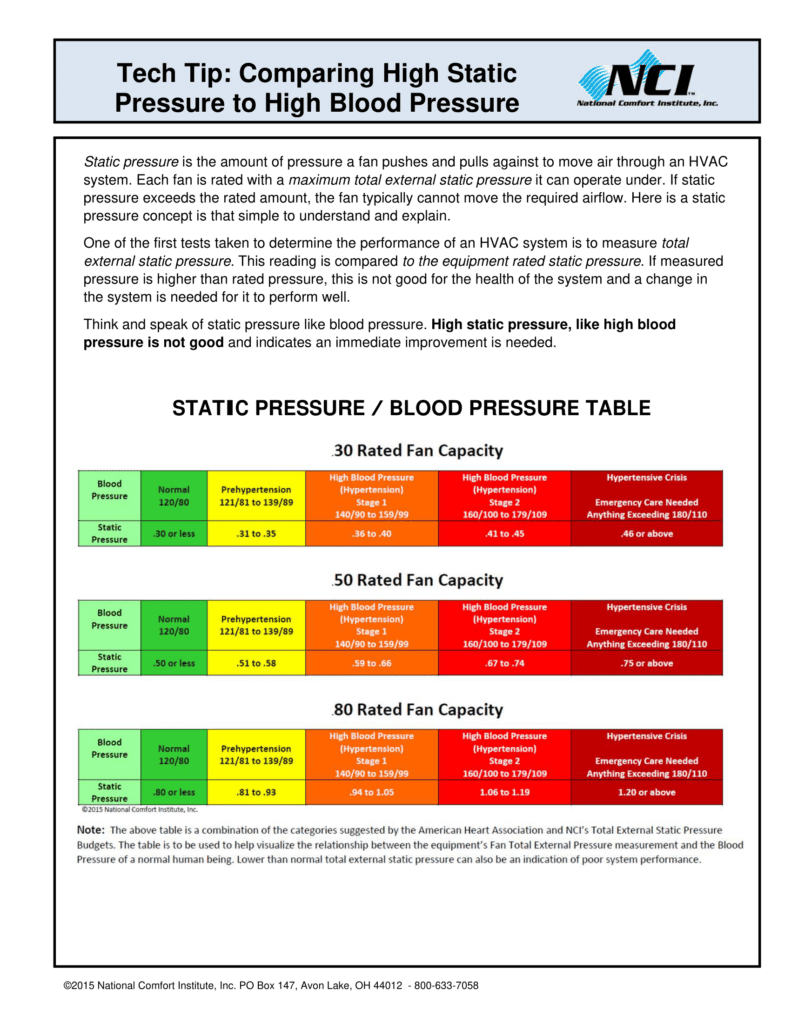 Reach HVAC Efficiency with Polar Bear Mechanical
It's important that the static pressure in your HVAC system is balanced, and proper measuring requires professional equipment. During an air conditioning maintenance appointment with our HVAC experts, we'll conduct static pressure readings to make sure your heating and air system is working properly.
If we find that you have high static pressure in your HVAC system, we'll take the necessary steps to correct the problem. Our HVAC technicians will ensure your commercial and residential HVAC systems are operating within manufacturer specifications and are able to provide proper airflow throughout your space. If you're tired of your upstairs rooms being consistently hotter than the main level, contact us for a duct and airflow analysis; we have solutions to allow for more airflow to the uncomfortable parts of your home!
To schedule your next service with our HVAC contractors, contact our team today!

Read: What is Static Pressure?