Rooftop HVAC units are extremely popular among residential and commercial buildings. If you are installing a new A/C, you may be interested in a heating and cooling unit on your rooftop vs. the ground. But how does a rooftop HVAC unit work?
At Polar Bear Mechanical, we are your go-to air conditioning experts. We have extensive experience installing, maintaining, and repairing air conditioning units. No matter if you want a rooftop or ground unit, our certified technicians will properly install your air conditioner to keep you comfortable all year long!
If you are interested in installing a rooftop air conditioner, keep reading to learn more about rooftop HVAC units, their pros and cons, and why a rooftop unit may be the best choice for your heating and cooling needs.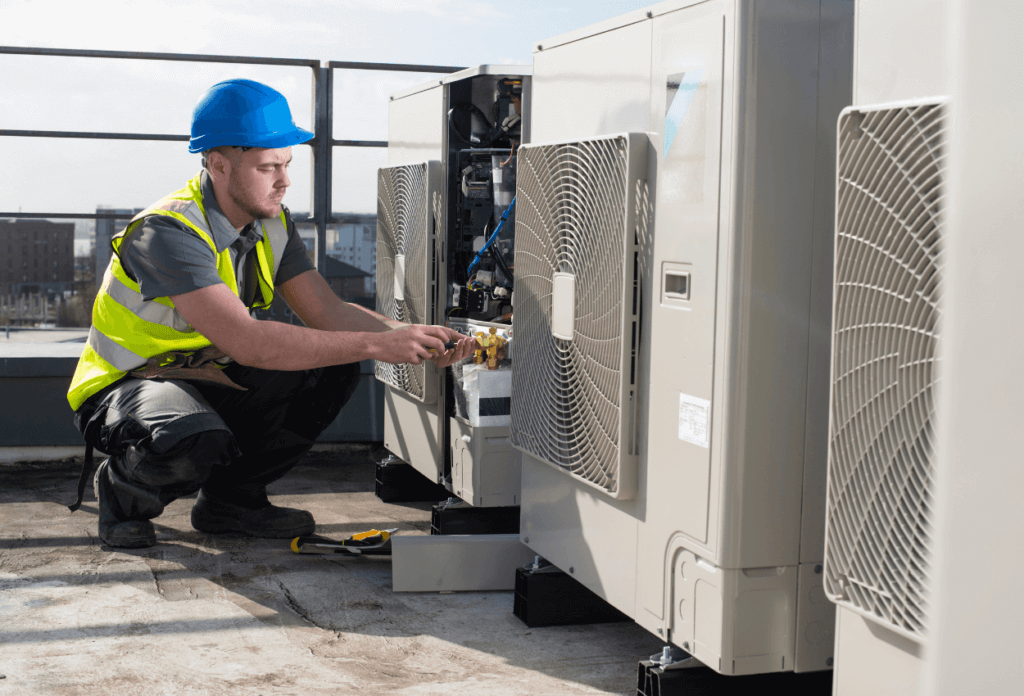 What is a Rooftop HVAC Unit?
Rooftop units are exactly what they sound like. They are HVAC units that are installed on the roof of a building. This is different from a ground unit, which is an HVAC unit installed on the ground.
You probably have seen rooftop HVAC units on the tops of commercial buildings. Commercial buildings often have flat rooftops with lots of space which makes them perfect for HVAC units.
Rooftop HVAC units are also called packaged units. They are called packaged units because all of the components of the HVAC system are packaged together in a single cabinet. This cabinet houses the heating and cooling parts of the system.
How Does a Rooftop Unit Work?
Rooftop HVAC units provide efficient heating and cooling to the building inside. Air travels through the ductwork inside the building to keep the inside temperature at a comfortable level.
Air enters the air hood on the rooftop unit and first travels through the HVAC's filters. The air is then cooled or heated by coils depending on the mode that the HVAC system is operating. Finally, the fan circulates the air through the air ducts of the building to properly cool or warm the space.
Pros and Cons of A/C on the Roof
There are many pros and cons to an HVAC unit on the roof. Mounting an air conditioner on a roof can be a great option for some commercial or residential buildings. However, there are cons to this HVAC approach, too.
Pros
The pros of packaged rooftop units include:
Space
You save space by installing rooftop A/C units. Instead of installing an HVAC unit on the ground outside of a building, rooftop units are perfectly compact on the top of your building.
Security
It is harder for someone to steal your HVAC unit when it is located on the top of a building. This will be a deterrent for anyone looking to damage, steal, or destroy your heating and cooling system.
Access
Packaged HVAC units have all of their parts in a single cabinet. This makes it as easy as possible for a technician to look at parts and make repairs or replacements.
Noise
Ground air conditioning units can be loud. You can often hear them turn on and off. You won't be able to hear the sounds of the system as easily with a rooftop HVAC unit.
Cons
While rooftop HVAC units sound appealing, there are some cons of this type of heating and cooling system:
Rooftop Damage
One con of rooftop units is their ability to damage your roof. HVAC units are heavy, which can cause damage to your roof if it cannot support the weight of your heating and cool system. This can cause other problems such as leaking or difficulties with roof repairs.
Weather Damage
Another con of rooftop units is that they can become damaged due to weather conditions. For example, hail, lightning, and high winds can cause damage to your HVAC system. While these units are made to withstand weather, this is something to be aware of before installing a rooftop HVAC unit.
Lesser Maintenance
An additional con of rooftop HVAC units is that they can be more easily forgotten about. Ground air conditioners are more obvious and they tend to make more noise. This will remind you to schedule annual maintenance on your HVAC unit compared to your rooftop unit which is not easily visible.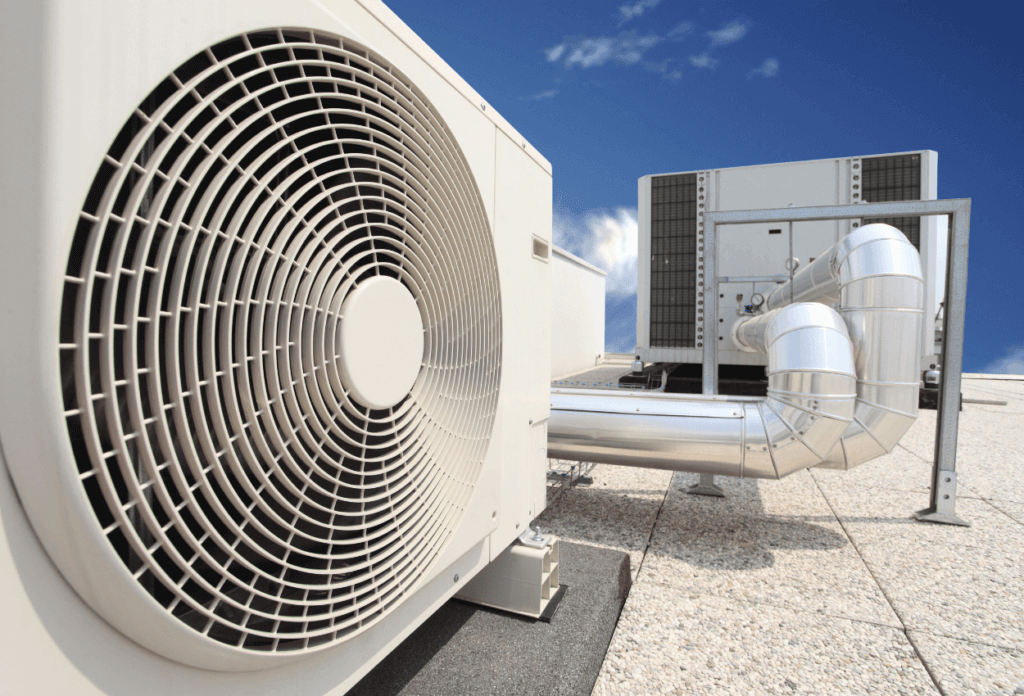 Install a Rooftop HVAC Unit With Polar Bear Mechanical
A rooftop HVAC unit is a great option for residential and commercial buildings that can support this type of heating and cooling system. They are much more secure, quieter, and more accessible than ground units. However, keep in mind that they can become damaged in serious weather or cause damage to your roof. Both rooftop units and ground units are excellent choices to keep your property comfortable.
Regardless of the type of HVAC unit you choose, Polar Bear Mechanical is here to help! As HVAC experts, we can have your rooftop unit set up in no time. We have years of experience working with HVAC systems to provide clients with reliable and comfortable indoor heating and cooling. If you have any questions about rooftop units, or if you want a free A/C estimate, contact Polar Bear Mechanical!